Eileen Huang, the founder and director of ICMC in Positano, Italy and Shanghai, was born in Chongqing, China. She began her piano studies at age 6. At the age of eleven, she won the National Young Musicians Performance Competition and that year was admitted to the Central Conservatory in Beijing from where she graduated in 1966. Like many other Chinese musicians, her career was put on hold during the Cultural Revolution.

She immigrated to San Francisco in 1979 and received the Master of Fine Arts Degree from Mills College in Oakland, California in 1982 and was honored with the Flora Boyd Memorial Award for Best Piano Performance. At Mills her mentor was Bernard Albramowitsch. She also studied in both Portugal and at the Mozarteum in Salzburg under Helena Costa, whose mentors included Alfred Cortot and Edwin Fischer.
Since 1990, Eileen has been living in Austria, Switzerland, Italy and France. She has taught Master classes and given concerts in the United States, Asia and Europe.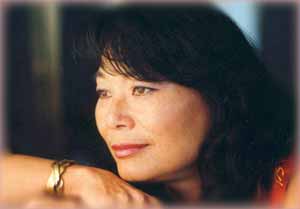 She has recorded and produced numerous CDs of Chinese piano works and European classical music including: "Ancient and Modern Chinese Music I, II ", "Chinese Piano Concertos", "24 Chinese Folk Songs", "Longing", "Flowing Through Time", "Beethoven Sonata and Chinese Music", "Venezia e Napoli", and "Bach-Busoni,  Ravel and 22 Chinese Folk Songs." Her works have been distributed by the Wind Record Company and Wind Song, Ltd. of Taiwan, ASV Ltd. of London, and Divox of Basel.

She is also a Tai-Chi teacher and the author of several books in Chinese: "Flowing -Chinese Gypsy Woman", "Struggle –How to Build Happiness", "The 19 Letters from Positano", "My Homes" and "My Corner of Paradise-Positano."

Eileen currently resides in Positano and Paris.