| | | | | | |
| --- | --- | --- | --- | --- | --- |
| Eileen's Concerti | Home | Biography | CDs | Books | Pictures |
---
"Piano on Silk Road" Concert
Piano solo Eileen Huang

Program

arr. Li Yin Hai
Parting at Yang Quan (Tang Dynasty 618-907)

Flute & Drum at Sunset (Sung Dynasty 960-1279)
arr. Wang Li San
Shangxi Folk Song
Lan Hua Hua
arr. Guo Zhi Hong)
Two Yili Folk Songs (XinJiang)
1 The Girl with Black Eyes
2 Olten River

Two Dance Songs (XinJian
arr. Shih Fu
1 Kashgar Dance
arr. Guo Zhi Hong
2 XianJiang Dance

**

Domenico Scarlatti
(1685 - 1757)
Sonata in C major Longo,104
Allegro
Sonata in F minor Longo 187
Andante Cantabile
Sonata in bE major Longo 498
Allegro
Arno Babadjaniyan
(1921 - 1983)
Melodie Andante
Prelude
Vagarshapat Dance
Frank Liszt
(1811 - 1886)
"Venezia e Napoli"
supplemento alle "Années de Pèlerinage" II anno
1, Gondolier
Quasi allegretto
La Biodina la Godoletta. Cazone del Cavallere Peruchini
2, Canzone
Lento doloroso
Canzone "Otello" di Rossini
3, Tarantella
Presto
Canzona Napoletana "Funesta Vasia"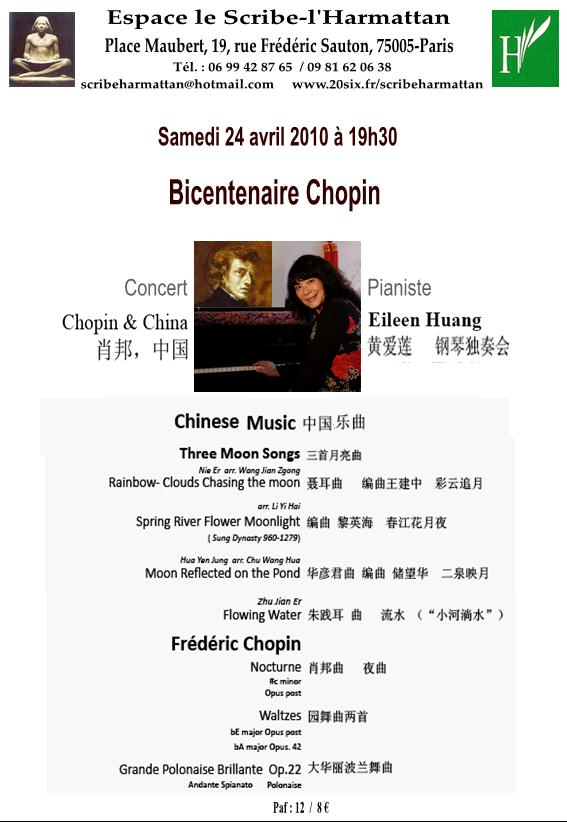 - SILK TRIO on SILK ROAD -

Project Proposal
One Chinese Pianist growing up under communist China. Its almost half a century ago, in a remote Chinese village, she and young music students from Conservatory unloads s second hand Piano from the back of a beat-up truck. It's the first time anyone in this rural backwater has ever seen the western instrument called " Piano".

Two decades after leaving China, through long road in the world, she has lived in U.S.A. Austria, Switzerland, Italy and France…
Pianist Eileen Huang has always kept a dream.

" My dream is to go along the road which connected east and west with my Piano by playing Chinese Piano works in my European classical programs."

While searching the musician partners and possibility, 10 years ago she has founded a International Chamber Music Courses & Festival ( "Positano ICMC" ) in south Italy; ( Since 2007 ICMC also go on to have "ICMC Shanghai" ). She has written several books with her story and she has recorded numerous CDs of Chinese Piano works almond other classical programs.

She has kept her dream.


Pianist Eileen Huang, with the Italian Violinist and Violoncellist have made up their mined to take on the ancient Silk Road, her dream is no longer alone, Eileen's dream becomes the dream of all three musicians!

Like their ancestor to cross the world connect east and west. Through this project, they will use their music tell their life stories under different cultural background with one music langrage.

Like the Silk, shinning, lasts well and keep going long a way, like the silk, soft, pure, harmonic, good to make beautiful arts. " Silk Trio " is born.


SILK TRIO on SILK ROAD project plans: (unfinished)

- To go on the silk road between Beijing ( or Xian) and Venezia with one or two trucks and one grand Piano.
- Playing concerts in all kinds of concert hall and open air.
- Making a documentary film with the journey, music and telling stories.


The on road team:
Silk Trio, cinematographer, photographer, road manager, driver etc.

- The music program including: Classical, Chinese, Napolitano, world, folk with Piano, Violin, Violoncello,; trio, duo, solo, etc.

Contact:
Eileen Huang
7 Place Jussieu, 75005 Paris, France
Tel/Fax ++33 1 43 37 89 36
Mobile ++ 33 6 32 98 18 17
info@eileenhuang.com
www.eileenhuang.com
Le pianiste Eileen Huang
Eileen Huang, pianist, born in Chongqing, China. Eileen Huang graduated from Central Conservatory in Beijing. Like many other Chinese musicians, her career was put on hold for seven years during the Cultural Revolution.
she immigratet to San francisco in 1979 and recived the Master of fine Arts Degree from Mills College, California under Bernard Albramowitsch in 1982. She also studied in Portugal and the Mozarteum in Salzburg under Helena Costa, whose mentors included Alfred Cortot and Edwin Fischer.
Since 1990 she has been living in Austria, Switzerland and Italy. Shr hat taught Master Classes and given concerts in the United States, Asia and Europe. She has recorded and produced numeros CDs of Chinese piano works. She is also a Taichi teacher and the auther of several books in chinese. She ist the founder and director of I.C.M.C. in Positano, Italy, she now resides in Positano and Paris.
Née a Chongqing, Chine, Eileen Huang est diplômée du conservatoire central de Beijing. Comme beaucoup d'autres musiciens chinois, sa carriére a eté suspendue pendant plusieurs années lors de la révolution culturelle. Elle émigra à San Francisco en 1979.où elle recut en 1982 um "Master degree" du Mills College, dans la classe de Bernard Albramowitsch. Elle a également ètudié au Portugal et au Mozateum de Salzbourg sous le direction d' Helena Costa, qui comptait parmi ses maîtres Alfred Cortot et Edwin Fischer.Depuis 1990, elle a résidé en Autriche, en Suisse et en Italie. Elle a donné des cours et des concerts aux Etats-Unis, en Asie et en Europe et a enregistré de nombreux CD de musique chinoise pour piano. Elle est également professeur de Tai-chi et auteur de plusieurs livres en chinois. Elle dirige le " International Chamber Music Courses & Festival" à Positano, en Italie. Eileen réside actuellement à Positano et à Paris
---